Vikings at Comic-Con 2013
The Women of Vikings Raid TV (and Our Hearts)
When watching Vikings, History Channel's first scripted drama series, we were tempted to make comparisons to Game of Thrones (it was, after all, in the same Sunday evening time slot) and peg the historical drama as an epic fantasy show, but "fantasy" is certainly the wrong descriptor. Vikings, which is centered around the tales of the eighth-century Norse warriors, is based on actual Viking people and relies on a great deal of historical research.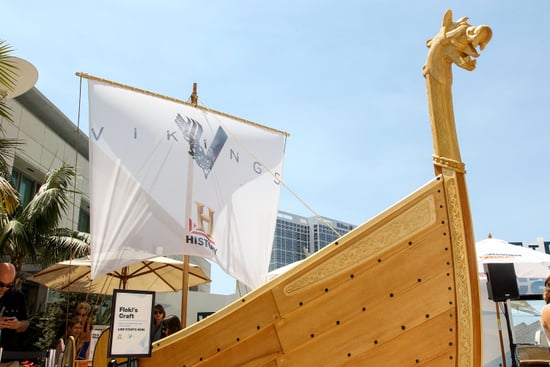 The historical foundation makes the pillage-and-plunder show riveting — but especially thrilling to watch are the series's two female leads: shieldmaiden Lagertha, played by Katheryn Winnick, and earl queen Siggy, played by Jessalyn Gilsig, who shatter every preconceived notion that the women in ancient times were weak and submissive. We had a chance to speak with the cast at Comic-Con to find out why the women of Vikings have captivated TV audiences (and conquered our hearts).
Series creator Michael Hirst, who wrote The Tudors and the film Elizabeth, told us, "It so happens that I like to work from real things . . . In the case of Lagertha, she is exactly as she is represented. She was a famous mother and wife, and eventually became an earl in her own right. I didn't realize I was being revolutionary." Legions of fans have rallied behind Lagertha, wife of the show's protagonist Ragnar and famed shieldmaiden, which is a women who elects to fight as a warrior.
During the Vikings panel, History Channel executive Dirk Hoogstra called out a particularly zealous fan who wrote extensive episode recaps and instigated insightful discussion through the show's social media and community channels. That fan happened to be present, and when she stood up dressed in Lagertha cosplay, the room gave her an uproarious round of applause.
"It turned out that there aren't any women characters like her [Lagertha] on TV," Michael said. "It's good for History Channel, because it's bringing more women to the platform." Vikings, which received an impassioned following after its first season, was just picked up for a second 10-episode season, slated to air in 2014.
Gilsig's Siggy (yep, same woman who played Mrs. Schuester on Glee) is another gripping female portrayal. The earl's beautiful, cunning queen is anything but passive. Siggy has her own agenda, especially when it comes to her relationship with the Viking chieftain.
We talked further with the show's leading ladies to discuss female characters on TV, which superhero they'd be, what's in store for season two, and more.
On Strong Female Characters on TV
Katheryn Winnick — "It [Vikings] shows that there is an appetite for it and a need to have women that have complexity, strength, and a strong voice. I was so excited when I got this role, but I didn't appreciate the role Lagertha might have had."
Jessalyn Gilsig — "It hits a raw nerve for me, that there's this idea that 'God, these women are so interesting!' But I want to be, like, 'Women have always been interesting!' It's just fascinating that it's 2013, and we're amazed that any women is interesting . . . I don't think that it needs to be just strong women. There are strong and weak men, strong and weak women. We need multifaceted, conscious characters."
On Superheroes
JG — "I would be Batman. Done."
KW — "I have to be some badass character. Like Catwoman or one of The Avengers."
On the Relationship Between the Two Women
JG — "It's an unexpected friendship. I'm not necessarily a fan of Ragnar's, but I'm a big fan of Lagertha's. We bond over this loss of a child. Instead of feeling a sense of competition, I feel a bond. It's a huge credit to Michael, that instead of pitting these women against each other, they find common ground."
KW — "Michael explores our characters together, and the female bond is stronger next season. They confide in each other, and the relationship brings such a different dynamic to the show."
On the Fandom
JG — "How well they [the fans] understand the show! The complexity of their appreciation for the material and individual characters. I feel like they've watched it five times."
KW — "A lot of people are catching on because there's adventure, action, and the most important thing is that the Vikings are humanized. The relationships and the story line are still relevant to us today."
On the Makeup and Costume Design
JG — "When we saw the standards of production, it really felt like 'game on.' When we were putting my look together, it was based on some artifacts that had been found. We had that feeling of 'we either do it or go home.' A lot of people were expecting us to beautify it, but . . . we know we'll lose our audience if we do. We know we'll break the world we've created."
KW — "It really helps us as actors. When my character gets more status, she get more furs. Putting it all together, you want to do the costumes justice."
Get a sneak peek of Vikings season two (filming now!) and let us know which character on the show has raided your heart.