Sony NEX 5 Camera 2013
Sony Brings Tap-to-Connect NFC Tech to the NEX Camera Line
This week, Sony announced its continued trek away from the clenches of wired connectivity with the latest in its NEX line of cameras with the NEX 5-T. The 2013 model of the interchangeable lens NEX 5 features NFC technology, allowing for wireless transfer of picture and video files from the camera to any NFC-enabled Android phones or tablets (like the Samsung Galaxy S4, the HTC One, and the Google Nexus 4). As with other NFC gadgets, once the feature is turned on, sharing occurs when one device touches the other.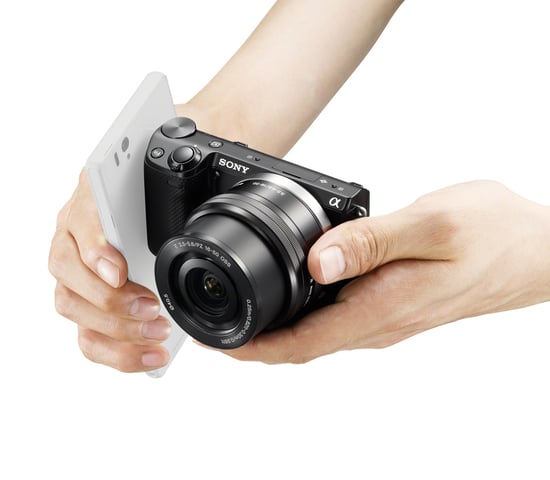 If using a device without NFC, like the iPhone, you can still upload photos from the camera wirelessly using a WiFi connection and Sony's PlayMemories app. The camera's smart remote option also uses WiFi to work like a shutter remote when paired with another device.
Read on for more of the NEX 5-T's features.
16.1MP CMOS sensor
LCD touchscreen that can move 180-degrees and includes a touch shutter
Available in black, silver, and white
Camera kit with 16-50mm zoom lens for $700, or body-only for $550
Hits stores Sept. 2013