Google Android Gingerbread and Nexus S Details
Google Announces Android 2.3 Gingerbread, Nexus S
It's been a busy Monday for Google already, as the company officially announced the next version of its flagship Nexus One smartphone, called the Nexus S, which will be the first Android device to run Android 2.3 (codename: Gingerbread).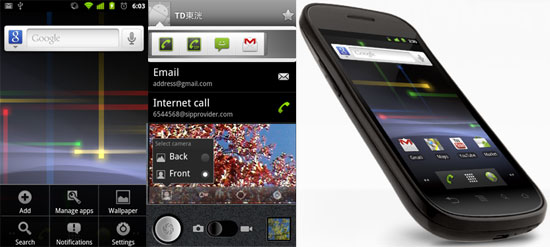 The Android-toting masses won't be able to download Gingerbread just yet — that honor will first be bestowed on the Nexus S, which will launch next week on Dec. 16 — however, the OS will come with some improved features to look forward to, including:
Refined, faster, and easier to use user interface.
Redesigned keyboard for faster text input and one-touch word selection along with copy/paste.
Auto-shutdown of apps that drain power when left idle for too long.
Access to multiple cameras on your device and easily toggle back and forth between them.
Download manager that helps you organize and keep track of device downloads in one place.
Supports gyroscopes and other sensors to improve 3D gaming on your device.
Get all the details on the brand-new Nexus S device after the break.
Maybe the most visible change to come with the Nexus S is the "contoured" Super AMOLED 4-inch display (that is said to reduce outdoor glare by 75 percent), which will curve with the palm of your hand and the side of your face. Pretty smart! Other notable features include: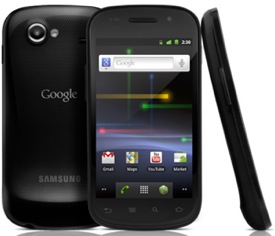 Fast 1Ghz Hummingbird processor.
5MP rear-facing camera with flash and forward-facing VGA camera.
16GB internal memory.
Unlocked to work with any GSM carrier.
Latest versions of Google apps, along with voice commands.
Near Field Communication-compatible so you can get info off of everyday objects with an NFC tag (like movie posters, t-shirts, stickers, etc.).
Comes loaded with Android 2.3 Gingerbread.
Up to 6.7 hours of talk time and 17 days of standby.
You can get the Nexus One unlocked for any carrier at Best Buy, or through T-Mobile starting on Dec. 16, but you can sign up to get alerts, pricing, and availability details straight from Google. Also, look for your Android 2.3 Gingerbread updates to roll out over the next few months. In the meantime, check out the promo video for the Nexus S below.