Facebook Acquires Push Pop Press
Push Pop Press: A Good Fit For Facebook or Not?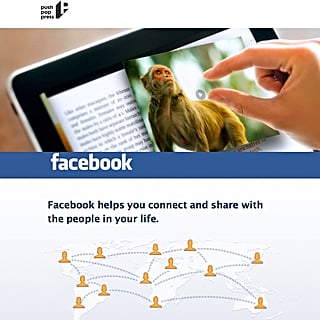 Yesterday, Facebook announced that it has bought Push Pop Press, an publishing app devoted to making books more interactive using the iPad and iPhone interface.
Embedded videos, zoomable and mappable images, audio clips, and responsive graphics are just a few of the ways this company seeks to make storytelling a richer, all-inclusive experience and could end up putting it to good use on Facebook. But will Facebook start selling ebooks on its site? It's already begun to stream movies and sell goods on Facebook Marketplace, and it definitely has a large enough platform to make an impact on the ebook market.
However, Facebook denies any intention to compete with other e-book companies like Apple, Amazon, and Google. According to Push Pop, Facebook users will eventually have the opportunity to share their experiences online using Push Pop's multimedia storytelling model.
Learn more about Push Pop Press from co-founder Mike Matas during his recent TED Talk, and vote on our poll after the break!
Push Pop Press TED Talk from Push Pop Press on Vimeo.